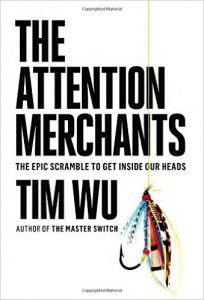 I si nye bok «The attention merchants» går Tim Wu gjennom 150 år med reklamehistorie, skildrar korleis kommersielle interesser stadig har gått lengre for å få di oppmerksomhet, og diskuterer dei negative følgjene av reklamefinansierte media.
Boka startar på 1830-talet, då aviser i New York starta å bruke annonser som finansieringskilde, og i følgje Wu dermed fann opp annonsefinansiering som forretningsmodell. Boka fortset så gjennom reklamehistoria, med «snake oil» og løgn i annonser,  plakatar i det offentlege rom, offentleg propaganda under verdskrigane, introduksjon av radio og TV, og til slutt Internett og mobiltelefonar.
Eit gjennomgåande tema i boka er korleis kampen om oppmerksomhet alltid er pågåande, mellom profesjonelle/kommersielle interesser og folk flest. Når det blir for mykje reklame/forstyrrelsar slår folk tilbake, gjennom strengare reguleringar eller ved å forlate mediet. Kommersielle interesser svarer så gjennom innovasjon og mindre påtrengande reklame. Slik fortset kampen. Dei som ønskjer di oppmerksomhet har likevel gradvis okkupert fleire og fleire arenaer – skulen, huset (gjennom tv, radio), jobben (gjennom Internett) og til dels kroppen din (mobiltelefonen)
Eit anna hovudpoeng er at media som i hovudsak er finansiert av reklame har dårleg kvalitet – det blir alltid et «race to the bottom» med clickbait, sensasjonelle nyheter, stor vekt på kjendisar, overskrifter som ikkje dekkjer innhaldet,  og så vidare. Alternativet er sjølvsagt forretningsmodellar der vi betalar for nyheiter og underhaldning. Kabel-tv, Netflix og liknande medium har vist at dette er mogleg.
Boka gir ikkje så mykje ny kunnskap, men er likevel ein god presentasjon av reklamen si historie, og skildrar godt den kommersielle verdien av  oppmerksomhet. Når det kjem til løysingar er boka tynnare – reklameblokkering, reklamefrie pausar og arenaer og abonnementsløysingar blir diskutert, men  her har heller ikkje Tim Wu eit spesielt godt svar.